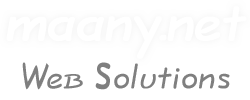 Welcome at Maany.Net Web Solutions
Dear customers, dear collegues,

reasons outside of my responsibility forced me to discontinue with this appearance by the 1st of June 2012. The foundation of this »company« has not even succeeded when it stopped existing. With the same date I was also enforced to quit my job entirely.
If you are interrested in a website or any other smart web solutions please feel free to contact our partners at the CYA-Network www.cyberagency.de or our partner agency Yellowspace Smart Solution www.yellowspace.net.
Thank you very much for your understanding.